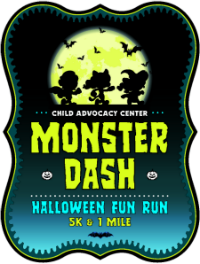 We hope you'll join us and DASH to make a difference! 
October 21, 2017
5KRun starting at 7:30 AM - $30.00 for individual or $300 for a team of up to 12 runners- price includes entry to Roca Berry Farm on race day!
1 Mile Run starting at 8:15 AM - $20.00 for individual or $200 for a team of up to 12 runners- price includes entry to Roca Berry Farm on race day!
*If you register for the 5K race, you may also run the 1 mile race with your registered child(ren).
REGISTRATION
All participants receive a race medal if registration is received by October 11th. Additionally, all finishers will enjoy fresh donuts and coffee at the finish line with free entry to Roca Berry Farms if you chose to stay! Race entries will be accepted up to the day of the race, but medals will not be available for late entries. Thank you for supporting child victims of abuse in our community by Dashing to Make a Difference! You may register online (includes 4% processing fee) or mail your registration form and payment to the Child Advocacy Center at 5025 Garland Street, Lincoln, NE 68504.
RACE AWARDS
Awards will be given to the top three female and top three male finishers of the 5K run, and to the top four children-finishers of the 1 mile run. 
COSTUME AWARDS
We hope you'll dress to impress! Awards will be given to the best adult and child Halloween costumes! We will announce the awards at 8:40 AM. 
THANK YOU TO OUR SPONSORS
Many thanks to our generous sponsors who help make this event possible and who help provide critical services for the children we see.
Title Sponsor: First State Bank Nebraska
Advocate Level Sponsors: Central States Telecom, Pittenger & Anderson, Sid Dillon Lincoln
Activist Level Sponsors: Children's Dentistry of Lincoln, Joe Courtney Keller Williams Lincoln,  Lincoln Northeast Kiwanis Club
Ally Level Sponsors: Columbia Insurance Group, Pen-Link, Modern Woodmen, Nebraska Hearing Center, Nebraska Trucking Association
PACKET PICKUP Early packet pickup will be held on Friday, October 20th from 11:00 a.m. - 2:00 p.m. at First State Bank Nebraska, 2701 Grainger Pkwy, Lincoln, NE 68516, and at the Child Advocacy Center from 4:00 p.m. - 6:00 p.m. 
Packets will also be available at Roca Berry Farm starting at 7:00am on race day.
This form stopped accepting submissions on October 21, 2017 7:30 am CDT.