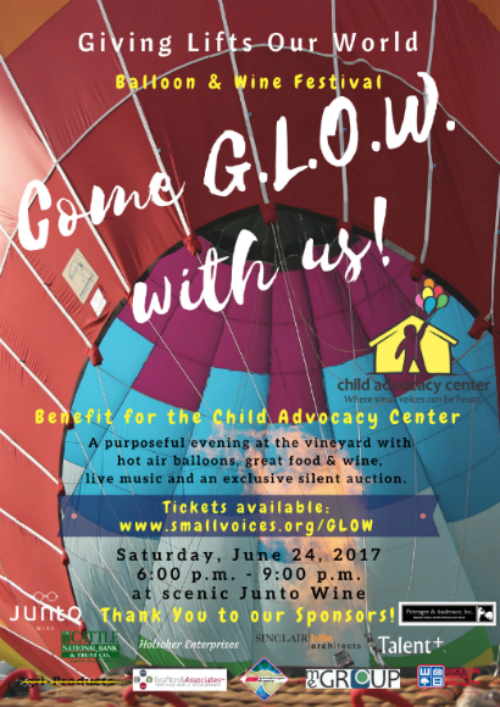 G.L.O.W.
Giving Lifts Our World
A benefit for the Child Advocacy Center
We are excited to host our second annual Giving Lifts Our World Benefit for the Child Advocacy Center (CAC). Our goal is to raise funds for the CAC where small voices of child victims of abuse and neglect are heard. Community members are invited to enjoy live music, food, a hot air balloon launch and silent auction amidst the scenic landscape of Junto Winery. Near the closing of the event, an evening glow of the hot air balloons will symbolize light transcending darkness, represented in the life of a child who is empowered to tell their story.
When:
Saturday, June 24, 2017 | 6:00 p.m. – 9:00 p.m.
Our event will take place rain or shine. In the case of inclement weather, the balloons may not launch or glow- However, we'll still have a purposeful evening with live music, great food, and the silent auction full of unique experiences and incredible items!
Ticket Price:
$50 per person.
Cost of admission provides music, food and entertainment. Tickets do NOT include a ride in a hot air balloon. Balloon rides will be sold separately for $250 per person.
Hosted by:
Junto Wine | 1356 182nd Rd | Seward, Nebraska
Rising Sponsor:
Junto Wine
Pittenger & Anderson
Lifting Sponsors:
Cattle National Bank & Trust Co.
Holscher Enterprises
Sinclair Hille Architects
Talent+
Elevating Sponsors:
Agri Products, Inc.
General Excavating
Grafton & Associates
M.E. Group
Woods Bros Realty